The 2019 Fall Sports Season Comes to an End
Doherty Girls Softball just recently ended their fall 2019 season, with a 4-19 win-loss record. Even though the scores were not in their favor, the girls were said to have still worked hard and fought the whole time. Also, the team went 4-8 in league games, putting them right in the middle of them 5A rankings. The varsity girls said they really enjoyed their season, and are already looking forward to next year. 
The Boys Soccer team for Doherty also recently concluded their fall season. The team ended up with a total win-loss record of 5-10. The boys carried a lot of seniors this year, which means they are bound to lose a few players for next year. They also had a league record of 3-3, putting them in a decent ranking in the 5A group. Despite this years season ending, the boys team said they are already looking forward for the 2020 season. 
Girls Volleyball made it into the playoffs this year for the 2019 season. During the playoffs, the girls finished with a 1-4 record, while playing up against some of the best teams in the state. They competed at Cherokee Trail High School, and competed against the top Denver teams while there.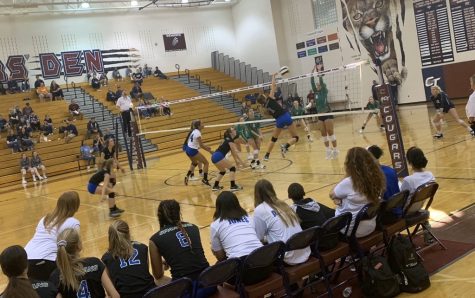 Starter on Varsity Ashlyn Graves, a junior, said, "We had a really great season and we fought really hard. I am going to miss playing with these girls!" Overall, girls volleyball completed their fall season with a 13-12 win-loss record. Additionally, the girls finished in the middle of the pack, by going 3-3 in league. 
Boys Football also recently concluded their fall season, and made their way into the first round of playoffs. They won their final league game against Fountain Fort Carson 35-28, to squeeze their way into the fall playoffs. The boys ended up playing Highlands Ranch (5-6) up in Denver, but ended up losing the playoff game 59-7. Head coach Dwight Hale, mentioned that despite the injuries the team took, the boys worked hard all season and they are all looking forward to next year. However, boys football finished with a 3-8 overall record and went 3-2 in league.
Now onto the Winter Season starting on November 18th!