Rumor Has It
Sparta adapting to outbreak.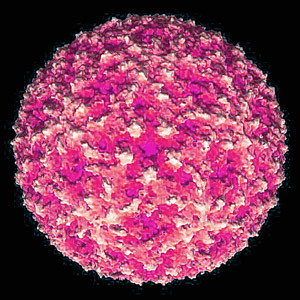 According to the Centers for Disease Control and Prevention, Corona virus Disease (COVID-19) has 1,629 cases in the U.S. The disease has grown due to travel and close contact. With the spread of the virus Senator Polis declared a state of emergency resulting in the state wide cancellation of schools and most activities involving close contact.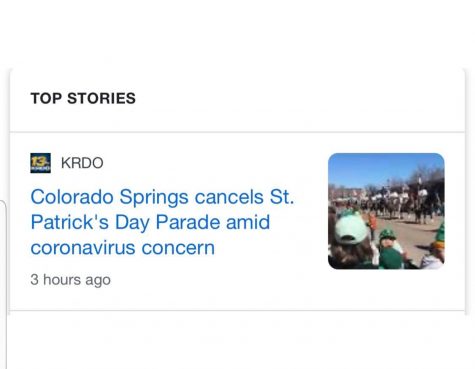 Students and staff have worked to adapt to the sudden cancellation through digital communication and learning. Friday teachers delivered their improvised plans for learning lessons through e learning during the quarantine period. With the unexpected break I found it hard to find things to do that would be productive and efficient. I noticed half of the students were taking a systematic approach to planning their new schedule and others believe this is an early start to their spring break. Either way I hope they use the time to do something they've always wanted to do.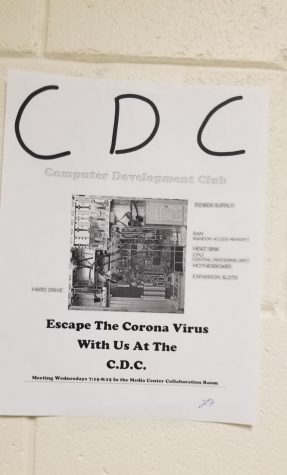 "I mean, I do miss seeing my friends and don't exactly like the idea of e- learning, but I think it's better than making up school days in the long run," said junior Caleb Fornwalt. 
This has caused a lot of heartache in the spartan community for students looking forward to school related activities like Varsity sports and the production of Twelve Angry Jurors. 
"I was really excited to start my soccer season, it was really upsetting to hear half of my season is gone and we barely started," said freshman Gracie Baker. 
As a crew member for the Spring play it was discouraging to hear that all our hard work was delayed. As a senior I wanted to try new things at Doherty and this has definitely taken a toll on my senior experience.  
These activities are a huge aspect of students' high school careers, Schools around the world already canceled and postponed events like prom and graduation.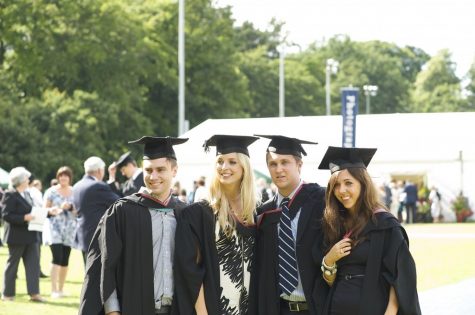 What's even more worrying is students depend on attending school for meals and care. This issue in mind schools in Colorado have taken the effort to offer bagged meals for children under 18. Click the link for further information. https://www.kktv.com/content/news/Free-food-for-children-under-18-during-school-closures-offered-at-multiple-sites-568790551.html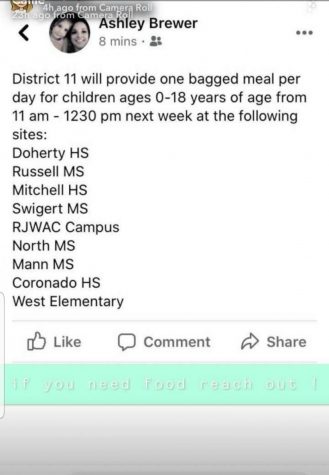 I have promised myself to be optimistic about the situation. My family and friends are healthy and I have the resources for at home learning. The cancellation, however, is the best proven approach to preventing the spread and saving lives. 
"It's definitely a good idea to keep any chance of the virus spreading to a minimum, but the district and the country in general needs to provide more support for people whose only access for food or safety is the school," said junior Sophia Putnam. 
With the lack of concrete plans from the government this situation seems almost apocalyptic. With stores running out of spaghetti sauce and toilet paper it feels like nobody was prepared for the outbreak.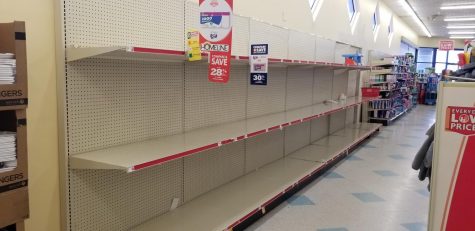 During the 14 day period the school board promised to sanitize the school.
"High school kids aren't the best at staying sanitized and it is very likely that if we stayed the next few weeks that there would be a higher rate of people getting sick," said senior Soraya Leonard.
Soraya, unfortunately, isn't lying. I have personally seen dozens of students not wash their hands after using the bathroom. The issue of the matter is the best prevention measure everyone can take according to the CDC is practicing basic hygiene. Over the break learn to wash your hand and cover your mouth while sneezing people!
Stay safe and wash your hands Sparta.