Kevin Gardner Reaches Out to Students and Families
See updates about testing, athletics, and activities below!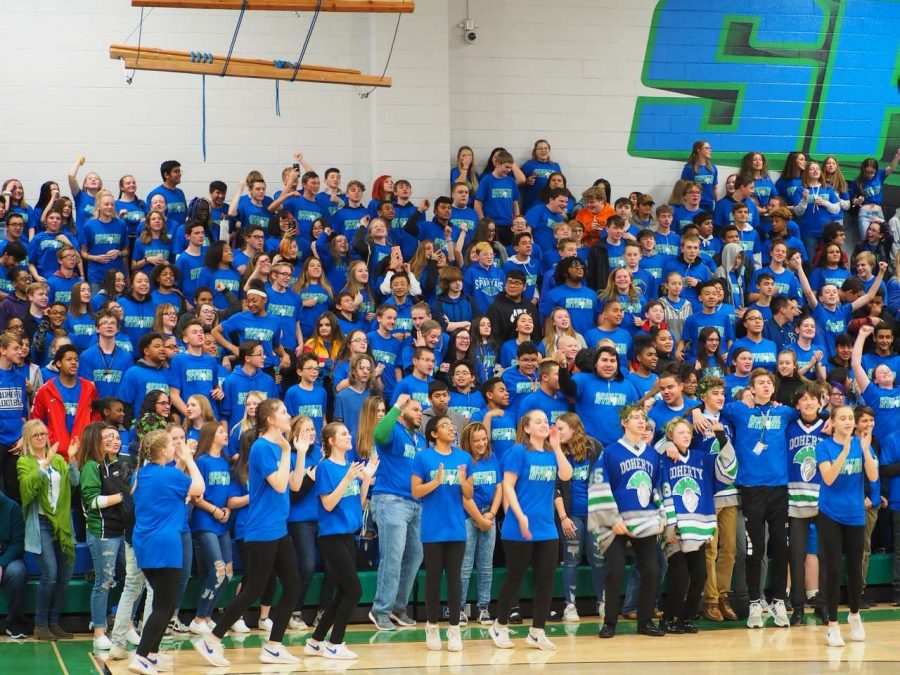 Kevin Gardern, Doherty Principal
March 20, 2020
Good afternoon Doherty students and families:
I want to start by saying thank you.  The last week has proven to be one of the most challenging experiences of my educational career. As the proud principal of Doherty High School, I am honored to serve, lead and work alongside each of you. I can't begin to express how proud I am of our students, parents, teachers and staff. You are all simply the best. As we work to navigate our new reality, I want to update you with some additional information as we head into Spring Break.
 Spring Break
The last week has been a challenge, and the coming weeks and months will be equally challenging, but next week is Spring Break. Everyone deserves a break and if possible all of us need to take a break. (Please do not anticipate communicating with teachers from Saturday 3/21 -Sunday, 3/29.)
 It won't be your typical Spring Break by any stretch of the imagination, but try to do something different. If you see an opportunity to serve others, take it. If your neighbor needs some yard work done, do it. Read a book that hasn't been assigned. Play outside with your siblings or friends. Or stop and think about our world, how small it really is, and what kind of impact you can make.
 Facilities Closed Until April 17 
All D11 facilities are closed through April 17. This means no access until after that date. Our facilities team will complete the deep cleaning of the building by the end of business today. They have a specific cleaning protocol that must be rigorously followed as outlined by the CDC. Once a room has been cleaned, the door will be locked, and the room sealed to prevent entry. These steps are being taken to ensure that all of us are safe and the building is virus-free when we reenter our school.
Instructional Technology and Distance Learning 
As a school we have spent the last two years implementing our 1:1 learning environment. All our 9th and 10th graders have laptops and our teachers have implemented Schoology as our learning management system. These tools have allowed us to migrate to an online environment seamlessly. We have a percentage of juniors and seniors who do not have computers or internet access. I have asked our technology team to investigate the possibility of generating a check-out process of existing computers for students who lack technology access. We will investigate the possibilities over the break and will hopefully have a plan designed by the beginning of April.  
Testing  
 CMAS and CoAlt 
The CMAS and CoAlt Social Studies for spring 2020 is cancelled. 
PSAT/SAT
State testing decisions are still being considered by the Colorado Department of Education

. Once those decisions have been made, we will communicate with you. 
      AP Testing 
The College Board is continuing to gather information and look at all available options. Today our AP teachers received an update about plans for online classroom support and a preliminary outline regarding online testing for our AP students. As the details of that plan emerge, we will share that information with you.
Given the unique role that the SAT and AP Tests serve for our students in terms of scholarships and college entrance, CDE is working with The College Board to generate possible solutions for preserving SAT and PSAT testing opportunities for Colorado students in an equitable way. We will have to wait for further information in this area. 
 Classes Credits GPA and College Admittance
Many of you, especially our seniors and our parents, are concerned about grades, GPA and college admissions. I can assure you that these issues are at the forefront of decision- making and our students' competitive advantage for admissions is a priority. Unfortunately, I do not have any specific information on this issue. This, too, is an area that we will provide additional information as we receive it.
 Student Accountability and Responsibility for Learning
At the conclusion of our first week of distance learning I'm encouraged by the learning that has taken place so far. Parents, I am asking that you be engaged with your students and the work they are doing.
Students, I cannot over-emphasize this next point enough—your learning is your responsibility! While we are operating in a new environment, I have to remind you that you still have to do the work—it's your job right now. Do the work and stay on top of it so you don't fall behind. You still have to earn credit to graduate and you earn those credits by showing that you know and understand what you're learning. Stay connected with your teachers, ask for help, and simply get things done.
 Athletics and Activities
Athletics and activities have been suspended through April 18. We will look to CHSAA to make the final decision about resuming spring sports. At the current time we do not have any information regarding Prom. I anticipate making a final decision once we get into April.  
 Senior Activities 
Regrettably, I have made the decision to cancel the Senior Breakfast scheduled for April 22nd at the Hotel Elegante. This is two days after we are scheduled to return. In order to meet contractual obligations and to have accurate participant counts, I feel we would be unable to pull off this event within our current constraints.
 All student travel has been halted and I would anticipate eliminated until at least April 18.
 Graduation
At this point I have no answers regarding graduation and do not want to speculate until later in April. This won't be a decision I will make but rather one made by the Superintendent, Board of Education, or most likely the Governor.  At this point we have many more questions than answers. I anticipate this may be the case for an extended period. I will communicate more information following Spring Break and will hopefully have more answers.
 I want to remind each of you that in SPARTA we are well-conditioned to handle disruption; it's what we seem to do, and to our credit, we do it well. I wouldn't want to serve at any other school other than Doherty because of the incredible students, staff, parents, and school community. Put on those Spartan Strong T-shirts, take a photo, post it on social media and show the world there's nothing the Doherty Spartans can't handle because together we are Spartan Strong!
Peace and Tranquility SPARTA – have a great Spring Break and mind your social distance.
Sincerely,
Kevin Gardner
Proud Principal
Students and Staff: Email me pics of you in your Spartan Gear and I'll post them in a video! Put Spartan Strong in the title.  [email protected]