Striving for Excellence with Aurora Henson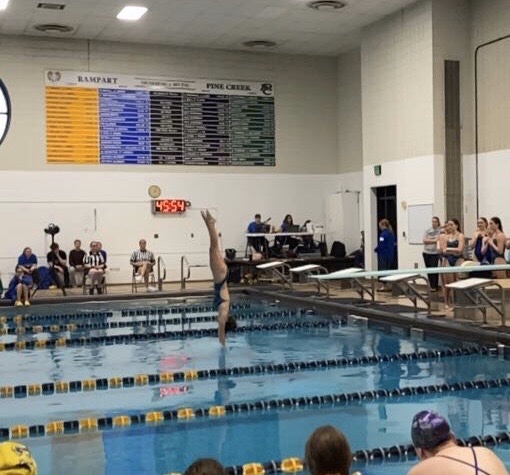 Aurora Henson is a diver and a soccer player here at Doherty, but there's more that makes this athlete tick than just sports. As a diver she likes to be challenged, and her favorite dives are back and reverse dives. During diving, her biggest struggle is over thinking what she was doing.  As Aurora says, "If i flop I will laugh it off and keep going." This attitude helped her to win the "Most Improved Diver " for the team this year, and she admits she worked very hard for it.
A couple things stand out about Aurora: she loves to wear Crocs, and if she doesn't have her Crocs on, she has her Vans on. Her main focus is almost always on family, friends and sports. Aurora tries to always keep a positive mindset and is almost always smiling. "I love how if I look up Aurora is always smiling," says Brianna Theisen.
Aurora also plays soccer, and she does play here at Doherty even though she has only played soccer for a year. When she started playing, she instantly took off. She made JV soccer, and she is always trying to improve herself. She has always been around soccer because her family in New Jersey plays soccer. So when she got the chance to play, she took it. Her biggest struggle with soccer is stamina, which she is currently working on improving. Aurora's favorite thing about being on a team is the friendships you make, and she says it's all about what you make it. She loves the game so much and is so excited to start the Doherty season.
Aurora's workload can be very hard to manage with sports, family and home life. She struggles sometimes, but she always gets her work done. The days she feels like she's too tired to do her homework, she finishes it all in her first period, and she is always sure she has her first period's work done before class. Her favorite classes are Biology with Mr. Prator and Geometry with Mr. Bandeau. The class that comes easiest to her is social studies. She also likes to spend time with her mom and brother, which is always her first priority. She always has her set priorities like family, friends, school then sports.
She always sets her goals very high. She wants to achieve them and continue to set more. Based on what she wants to improve, she has others help her. For soccer, she's focused on stamina and footwork. For diving, she just wants to make her dives look better and to be a better diver. Her hard work has paid off. She now knows what to do to be better.
Everything Aurora stands by and probably always will is that no matter what happens, she will never give up. Lastly, she knows the importance of always having your team's back. Those are the people in your life that make a difference, make you laugh, and overall change your life for the better. Her teammates sense this. Aurora is always making others laugh, and "her smile is contagious," says teammate Catie Taylor. Watching her play and become better should be so fun! Aurora is upset her season has been cut off because COVID-19, and she hopes she will still get to play a small amount of her season. She's trying to keep her skills up just in case.