Crystal Apple Awards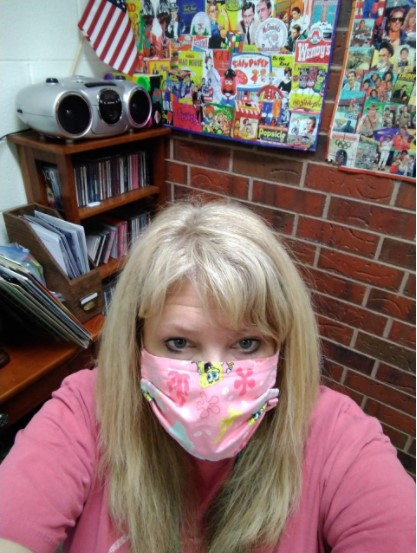 For close to thirty years, the Crystal Apple Award has honored dedicated teachers in Colorado Springs School District 11 for their impact on the future. This year, the Crystal Apple Award took a pause from its traditional recognition ceremonies and chose to recognize teachers in a different way.
The Crystal Apple Awards link takes you to a district website dedicated to recognizing teachers during our pandemic world. One of the many D11 teachers being recognized this year is Kim Mumma. "Without question, Kim exemplifies the heart of Sparta. She's hardworking, dedicated, caring, and loving. She gives her all to her students, not only here in school, but any time her students or her parents need her. She is a teacher who answers emails, text messages, and phone calls seven days a week. She doesn't do it because she has to. She does it because she wants to give every one of her kids and their families her very best. For this reason, she's being recognized this year as one of our district's best. When you have a chance, please reach out to Kim and thank her for representing the teaching profession by demonstrating day in and day out that it is a profession that is, first and foremost, driven by the heart"  Doherty Principal Kevin Gardner said.
From the parent perspective, "I would like to recognize Kim C. Mumma, special education teacher from Doherty High School.  My son is a graduating Senior with special needs.  He has only had the privilege of being taught by Ms. Mumma for the past two school years, as he entered Doherty as a junior after being homeschooled for nine years.  Kim is so much more than an educator and a caseworker.  Not only was she extremely supportive and instrumental in our transition from homeschool to public school, but she has also gone above and beyond during this pandemic which has turned all of our lives upside down.  Last year, after schools were closed the week before spring break for the remainder of the school year, she sent individualized packets out to each of her students, tailored to their learning needs.  In addition, she sent emails containing online resources for individual students' needs.  She made regular phone calls to check on her students' progress, but more importantly, on their overall well-being.  She not only talked with me, but had several conversations with our son as well.  This was all at a time when none of us, teachers, students and parents alike, had any idea from one week to the next how school would look or what we were doing.  Once the 2020-2021 school year started, first fully online and then hybrid schedule, we all had at least some semblance of what the new normal was.  Ms. Mumma's online class was amazing.  She taught her content in fun and interesting ways which were engaging to every student in the class.  One day while my son was online, I had to leave before class was over.  While I was away, he lost connection to the class and couldn't get back in.  He set off (laptop in tow, no cell phone) looking for me.  When I returned home, he was no where to be found.  I messaged Ms. Mumma and she was immediately on it.  And this was despite the fact that it was not an in person learning day for my son and that she was having an issue with a student who WAS actually in person at the same time.  Thanks to her (and all of the other wonderful Doherty staff and principals) it ended well.
"Ms. Mumma cares for each and everyone of her students and has a special bond with them.  For our son, it is a t.v. series that they both enjoy watching and discussing details.  She has a child of her own with special needs and truly has a heart for these students.  Our son has great respect and admiration for her and does not want to disappoint her.  He has said several times that she is his favorite teacher.  She will be greatly missed by our entire family" Carmen, a D11 parent tells.
Not only is this amazing woman a huge helper in our district, but at home with her daughter!!! "I never thought I'd end up being a teacher.  For years I worked as a purchasing agent for the government in New Mexico.  Then a tiny miracle happened in my life; I walked away from working and I adopted a beautiful baby girl.  My precious daughter was diagnosed with autism and epilepsy at age 2 1/2.  That was just the beginning of a very difficult journey.  I learned so much about dealing with heartache and realized how precious every life is.  When my daughter started school at Scott Elementary, I got a job there doing recess duty." 
But why did she truly choose this profession? "I didn't do it for money, I did it to help my daughter. I went on to take the Work Keys test to be an aide. I started subbing for the aides. The principal offered me a full-time job working in the computer lab. I did that until my daughter moved up to Jenkins. I quit and subbed at Jenkins, did PTA and ran the Jag Bucks store.  When she moved on to Doherty, I stopped working at Jenkins and moved up to subbing for the EAs at Doherty. I subbed and did PTA until they had an opening as an EA and got on full time. I am proud to be one of the first employees hired by the newly crowned principal of Doherty, Kevin Gardner! Throughout this whole time, I had been putting myself through college. Once my daughter graduated from Doherty, I applied to an alternative teacher licensure program at UCCS and got a job as a Special Education teacher at Doherty"  she told. Quite the passion she has, moving through these stages of life, while looking out for her daughter's best interest!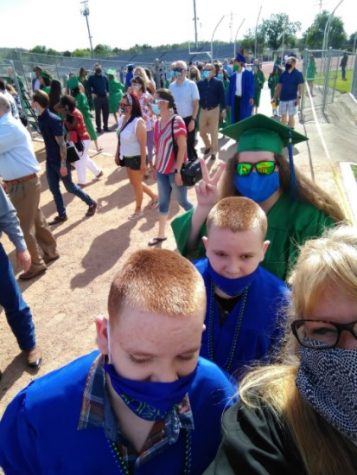 Although difficult, Kim expressed how "I love my job. It is the hardest job I've ever had, but by far the most rewarding! I love each one of my students. I understand the worry of being a parent with a child that can't speak for [themselves]. It's my job to help my students learn to be as independent as they can possibly be before they graduate. I also help very scared parents have hope and know that their student is loved and appreciated every day."  
But her journey as a mother does not end there, "I am happy to report that my daughter is doing great and attending college online.  I am so proud of her.  I am also proud to be engaged to [a] wonderful man who is a retired Security Chief for the Air Force." 
She has experienced the best in District 11 through her time of working in the education field. "The Special Education Department at Doherty is amazing! We're like a family. We're all so different, specializing in different areas, but bottom line we take care of each other and together we work behind the scenes to help struggling students survive and thrive at Doherty High School! Our teachers and aides work tirelessly to make this happen. No one would believe the amount of work that goes into helping our students.  We all work long days, long nights, and weekends. I love the team of people that support the Doherty students. It's a privilege to work alongside them. Thank you to each person I work with in the Special Education department at Doherty. I feel like our whole department should be honored for their hard work and sacrifice! I learn from each one of you, every day. Thank you! Also, thank you to my friend and mentor Ian Li. He taught me everything I know about treating people with respect and kindness."
Take this as an encouraging push to thank those awesome people that have impacted your life in the most positive ways! Or thank yourself for being one of those positive influences that impacted the life of another!!!