Sabina Nachtigal
Sabina Nachigal is a junior at Doherty; she is a student-athlete. Managing both school and soccer is often tricky for her but, she always puts school first and then focuses on soccer. She puts 100% effort into each, no matter the time. 
Life with soccer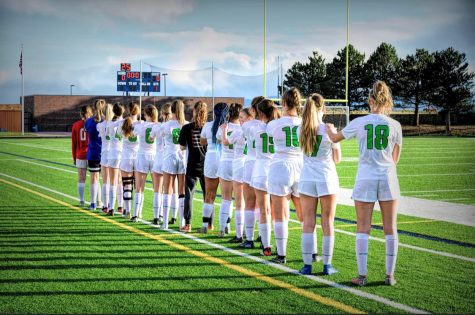 Sabina has played soccer since the age of 6, and she chose the sport because one of her family friends was good, and she wanted to be just like him. This sport has impacted her life in only the best ways possible. Sabina's team influences her the most. She wants them to know she will have their back on the field and off, and she can trust them too. Having her team by her side makes Sabina want to work harder. She wants to see her team celebrate after a big win, so she has to do her best on the field. When asked what soccer meant to her, she said, "Soccer to me is an outlet; it is not just a hobby but a commitment." Sabina is a very passionate person with a big heart for the game. The people in her life that influence her other than her team are her family and coaches; they push her to work her hardest and do her absolute best at everything she does. "I strive to make them proud," said Sabina. After a challenging game, Sabina says, " I like to wind down at home, stretch and get a good 
meal before I rest." This season is a little strange compared to seasons in the past because it is so much later and much shorter than years prior. However, she is incredibly happy to play this year because she was unable to last year. "I love playing with my team, and no matter the record this season, I am blessed to play one final season with the seniors I have known since I was a freshman," said Sabina.
Advice for Incoming freshman
 Sabina made varsity soccer as a freshman, she loves the environment, but many are worried about playing soccer at the high school level. I asked what her advice for them would be:
"To all the girls that would like to play soccer at the high school level, I would encourage them to do it and take advantage of the fun they will have. High school soccer may seem intimidating, but it is so much fun! From meeting and building a bond with upperclassmen to playing a sport and representing your school, everything is worth it."
Life outside of soccer
Outside of soccer, she loves to be active and spend time outdoors; she fishes, hikes, camps, and plays other sports for fun. In the near future, she would like to attend a university and get a degree in Environmental Engineering. She would love to play soccer in college; however, she has not yet decided on her path.
Many are proud to be in Sabina's life and love to see her accomplishments!