February Athlete of the Month: Naomi Kidd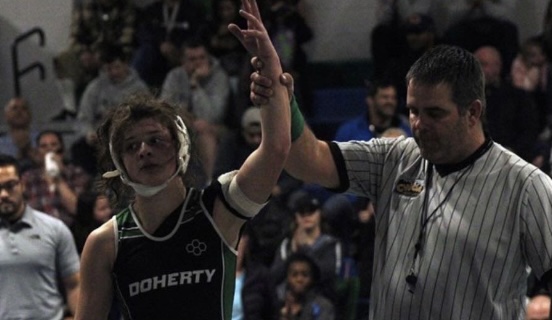 The athlete of the month for February 2022 is Naomi Kidd, a multiple sport athlete. In the spring Naomi participates in cross country. She is a varsity athlete on the cross country team. In the winter she is a fierce competitor in wrestling. Naomi is also a junior, with dreams of senior year. Her senior year dream for cross country is to be the leader on the team. She will achieve those dreams in the near future. The spirit of the school lifts Naomi up so that she can excel in these sports. "My favorite thing about Doherty is the school spirit".
In the picture Naomi is competing to qualify for state. She will go on to win this match and move on to the qualifying state rounds, which was held at Doherty so you can see all of her supporters in the background.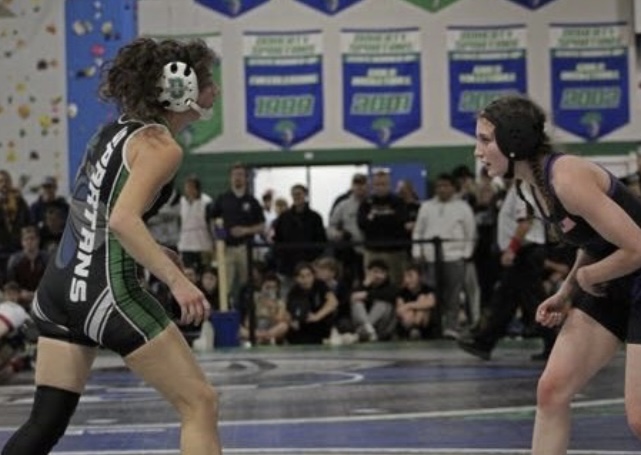 Naomi is a very busy athlete. She practices everyday except for on Sundays. She especially loves the team spirit. "My favorite thing about being on a team is the bond I share with my teammates."  Naomi is a very successful runner as I have mentioned but she is even more successful in wrestling. As a female wrestler she has won many tournaments just this year as well as being a state qualifier. And hoping that next year she can qualify for the second time.
 Many people are rooting for Noami Kidd as she finishes up her junior year and moves into her senior year. Adalee Johnson who is on the JV cross country team says, "Naomi is a very supporting outgoing girl. She is always so nice to me and would always support me."