Homecoming Hints!
It's about that time. Spartan's Homecoming is right around the corner! This year we are taking it to the beach. Here are some things you should know.
Spirit week is an exciting week, and it's a chance for all students to participate and express themselves. Let's show them what Doherty is made of!
To start off Doherty's spirit week, we will start with Hurricane Mismatch day 9/26. Tuesday 9/27 will be Hippie day. Wednesday 9/28 we will be Cruising for a Bruisin with Surfer vs Biker day. Thursday 9/29 is a trip to the Luau for Luau Day, also at 6:30 there will be a bonfire for all the students to attend. Friday 9/30 we will show our school spirit with blue and green day! The Homecoming football game will be at Garry Barry at 7:00pm. Show up and be loud!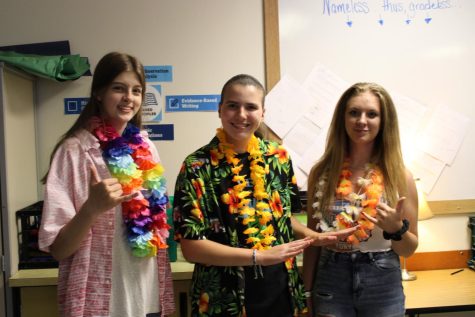 As the exciting day goes on don't forget to vote for homecoming court during 2nd-6th periods Friday 9/30.
The nominees for king are Walat Gozeh, Mareta Ielu, Landon Raulie, Kyle Kayden, and Jordon Dixon.
The nominees for queen are Kamee Hart, Kaylee Gordan, Jasmine Saldi, Amaiya Gozo, and Payton Henshaw.
To get a deeper look at how our nominees are feeling, we asked three of them how they felt, and they all agreed they were excited.
"I was extremely excited for the fact that I am a female running for homecoming king and is genuinely amazing for a growing generation that's accepting," explained Senior Mareta Ielu.
"I found out from the slip of paper, and was shocked and excited," explained Senior Walat Gozeh.
"Well, I was very excited! I didn't think I really would make it, but I did! I did it all for fun, but when I made it in, it made me feel all these exciting emotions and couldn't wait to tell my parents and friends!" answered Jasmine Saldivar.
Saturday 10/1: Homecoming dance will be held at Doherty for $20 pre-sale and $30 at the door
To our newcomers this is your first but not last Homecoming, so show up and be part of making great memories.
Class of 2023, this is your last Homecoming, so make it a night to remember. Go all out and make memories you can look back on.
As the movie High School Musical says: "The way we play tonight is what we leave behind!"
Leave a Comment