Midnights Review
The anticipation is finally over! The tenth studio album of Taylor Swift is finally out titled 'Midnights.' Swift said in her announcement, "the stories of 13 sleepless nights scattered throughout my life."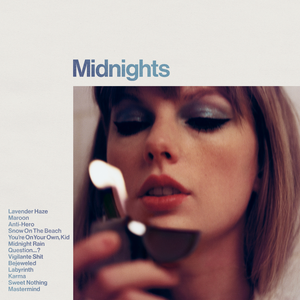 At the time of release she gave fans 13 new songs to listen to and enjoy and a few hours later she released the deluxe version of the album with 7 new tracks. The themes of the album include: self loathing, fantasizing about revenge, curiosity, love and falling apart. Themes so common among the youth of today. Avid Swiftie and student teacher at Doherty High School Brenna Clementi said, "It was not Folklore, but it is still a wonderful album with concepts that will resonate with many students."
This album was the first taste of new music that fans had received since her 2020 album 'Evermore'. This album had a lot of expectations when it was announced after Swift won Video of The Year at the Video Music Awards. Was it going to be a continuation of the indie and folk style of 'folklore' and 'evermore' or was it a return to the pop of '1989' and 'Lover'?
The album ended up being a mix of both. With lyricism from the former and beats from the ladder. This can be seen in the lead single 'Anti-Hero'. Although the beat of the song is something out of 1989, the lyrics are a level of vulnerability in her own life we haven't seen from her. She uses descriptive lyrics like: "When my depression works the graveyard shift."
This mix of pop and indie is seen throughout the album. My first listen was something I had not heard before. Taylor blew It out the water! It felt as if every song was a different story. With certified bops like 'Lavender Haze', 'Paris', 'Bejeweled' the list goes on! The album isn't all happiness and joy. There are sad songs like 'You're On Your Own, Kid' and 'Would've Could've Should've'.
The emotion in some lyrics in 'Midnights' are so complex, but she is able to summarize in a way that even a child can understand. Lyrics like "Give me back my girlhood, it was mine first" and "I searched the party of better bodies". The latter refers to her eating disorder.
Overall I believe that will have a lasting impact on this century and will be remembered as a prime example for a pop album.