Area Superintendent for the Day: A Day in the Life of Darren Joiner
I was tucked away in the back of the main office, a place filled with classified student documents with the principal of Freedom Elementary, and of course, her boss, Darren Joiner. It was a meeting that felt very secretive in a sense, but also wasn't. Who was this man? Ask the regular parent or student, and they probably wouldn't know Mr. Joiner or his role in making the school community around us a more interesting and enticing place to come to every Monday through Friday.
As a Doherty student and an editor for our newspaper, I asked if I could "shadow" Mr. Joiner to learn more about his job, and to find its role and impact on the puzzle that is our school district.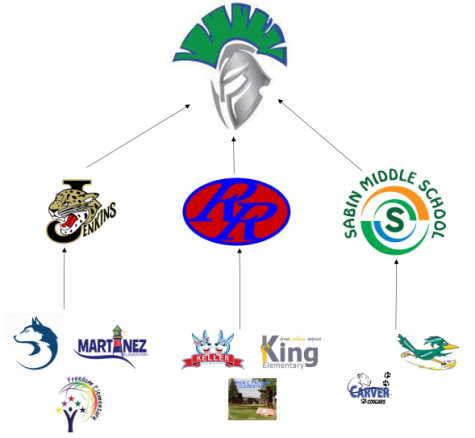 Joiner holds the title of Area Superintendent in Colorado Springs School District 11, a job that is a bridge between the superintendent, D11 Board of Education members, and the principals of the schools. "One of the things our Superintendent started this year was the Area Superintendent model [and] It's designed around an area [of the district.]" stated Joiner.
This model is designed so students can easily flow from an elementary school to a middle school and then on to a high school in their region of the district. Joiner is in charge of the Northeast region of the district, which encompasses Doherty High School and its feeder schools. Joiner says, "When we started the day off at Freedom, those students come to Jenkins, and we hope they end off at Doherty. We call that vertical articulation."
The Area Superintendent model also tasks area superintendents with being able to spread resources, so all students K-12 can feel supported. Colorado Springs School District 11 Superintendent Michael Gaal, stated, "He matches resources to need, and that's his primary job."
He added, "When a school needs assistance in navigating the bureaucracy that is public education, Darren Joiner untangled that red tape faster than anyone."
That idea of resources to need is where the idea of budgeting comes from. However, before a school is given the money, they must show its projected enrollment numbers for the following school year. From there the school district spread around its budget to the schools, and the principals will give it the department accounts. The dollar amount changes drastically as you get into bigger and bigger schools, and it's one of the tasks that area superintendents get tasked with. Joiner's job is giving assists, and providing a level of guidance to the principals on how to manage funds.
"
[Joiner] shares [our idea of] restorative practices.
— Elaine Charney
Monetary policy is not all that these talks include, but also discipline. Obviously, schools are not all sunshine and rainbows. During our meetings, Mr. Joiner would ask principals about certain disciplinary matters in their communities, and how the school would answer those issues. Head of discipline at Doherty, Assistant Principal Elanine Charney stated, "Darren is always there for support, and advice when we have big discipline issues and things we have not dealt with."
She added, "I listen to his advice, and also keep in mind the superintendent's vision for discipline."
Going into shadowing him, I expected him to just be in meetings with the principals the whole time. However, that was far from the truth. This tall, energetic, friendly man started his day doing school visits, a key part of what the area superintendents do.
We visited two schools, Freedom Elementary School and Jenkins Middle School. Each visit started with a meeting with that school's principal. These meetings were such an interesting look on how the school operates. For example, Freedom was discussing ways to make STAR testing more fun, while Jenkins was discussing ways to better their grading system for the next school year.
"
Nothing is more personal than the relationship of entrusting a school to educate your child and having a credible and local leader like Darren Joiner.
— Michael Gaal
It wasn't all meetings, however; principals got to show off classes. Principal Rochelle Williams of Freedom Elementary walked around with Joiner to show what the atmosphere is like in 2nd and 3rd grade classrooms. In these classrooms, Williams and Joiner gave 'Sending Smiles' and 'SOAR' tickets. Principal Anthony Jackowski of Jenkins Middle School showed off the art classes and 6th grade classes.
The job comes with challenges, but Joiner says the satisfaction of seeing students succeed is something that makes it worthwhile on all levels of the district. As members of our school communities, it is important to understand the different people involved in providing our education. It's important that we know who our administrators fall back on when they need help solving a problem. Superintendent Gaal said it best, "Nothing is more personal than the relationship of entrusting a school to educate your child and having a credible and local leader like Darren Joiner."
Shadowing a superintendent for a day was important because I got to see one puzzle piece in the bigger picture that is The Colorado Springs School District 11.
Leave a Comment