Hey there! Are you a freshmen looking for tips and advice? Lucky for you, we are here to give you advice and to help you get around DHS!
We talked to teachers and students around DHS that gave us tips and advice for you freshies, and we talked some of your teachers and some of your peers were all hoping this will help you get used to DHS.
Self-motivation is key to success as a first-year student. "A lot of them think they're going to get whatever they need from someone else," said Mrs. Amy Robinette, first-year biology teacher. With each coming school year, first-year students tend to have trouble finding self-motivation and independence to do their own work. 
It is understandable – middle school hands hold its students – and this is a tough shift to get accustomed to as you shift into high school. But when this is the last stretch of school before students are pushed into the real world, having self-reliance to do your own work is key. 
Story continues below advertisement
Do not get mad when a teacher cannot read your mind. High school is difficult, but if you want to be successful all throughout, you are going to need to motivate yourself to ask questions and seek necessary help. As Mrs. Robinette said, "Do you want to be the person that can't do anything on their own?" 
Consistency is also important to do well as a first-year student. The workload can be overwhelming in spots, but it should never be impossible to tackle properly if you manage your time well. 
Spencer Hoogeboom, a sophomore, had sound advice for these first-year students to keep their stress low: "Always try to do your work on time because it can pile on and be stressful."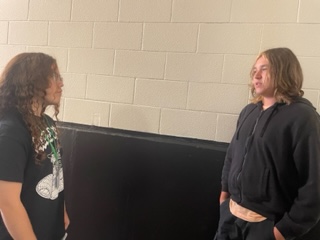 This is undeniably true, and some first-year students can get caught up in the shift in difficulty from middle school to high school. 
Simply always stay on your work; it is upsetting to teachers when all your work is three weeks late. If there is an outlying issue you need to deal with, simply communicate this, and your teachers will remain understanding. 
When asked if teachers can be on your case regarding responsibility and consistency, Spencer replied with a simple "Yes."  
Mrs. Robinette: 
Q: "Since you teach freshmen, what are some mannerisms to improve on that you often see?" 
A: "Lack of self-motivation" 
A: "A lot of them think they're going to get whatever they need from someone else" 
A: "Do you want to be the person that can't do anything on their own?"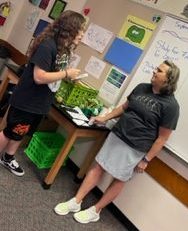 Mrs. Rose: 
Q: "Since you have taught freshmen before, what are some mannerisms you have seen that they could improve on?" 
A: "I think we have some pretty awesome freshmen, but we do see at the beginning of the year some need for maturity and focusing on academic work…"  
A: "Understand what you need to do for classes" 
Q: "What are some of the best qualities you see in freshmen?" 
A: Lots of enthusiasm, students excited to take different classes"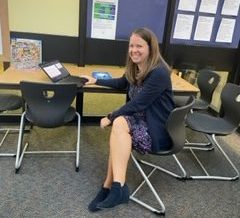 Spencer Hoogeboom (Sophomore) 
Q: "Since you are a sophomore, how was your experience as a freshman?" 
A: "{Freshman year} was pretty good. It was a little scary at first, but other than that, my time was pretty good." 
Q: "For new freshmen, is there any advice you could give that personally helped you?" 
A: "Always try to do your work on time because it can pile on and be stressful." 
Q: "And that's because teachers can be pretty on your case about it, right?" 
A: "Yes."