Here at Doherty High School, we have tons of clubs to offer. We have clubs ranging from Environmental Club to Tap Dancing, and we seem to offer a bit of everything. Clubs allow you to make friends, be creative, and try new things out. We have over 25 clubs, and students are starting new ones all the time. We have clubs and teams that go to competitions like Forensics, Science Olympiad, and Bowling.
We also have other clubs where you can learn and master a new skill, like Photo Club, Sew Cool, and Tap Dancing. Make sure to listen to the school announcements for updates on clubs and to know when they are meeting. You can also create a new club. You'll have to find a teacher or staff member who is willing to do it, and after that find out what day works best and where you are gonna do it. Have fun this year. Try out the clubs that you find interesting below and leave a comment about any that we missed. 
Photo Club is where you can express yourself because of your love of photography. This club is where you can explore photography, with recently added new cameras and equipment. This club is every Friday during lunch in room 201 with Mrs. George. "I like having Photo Club because there are students who are interested in photography who haven't signed up for the photo class yet, and I can share some of the resources to get to know students and they can make friends," said Mrs. George, the sponsor of the photo club.
Story continues below advertisement
Mock Trial is a competitive team that comes together to create a defense and prosecution. You'll present those in a real-life courtroom where you reenact a case. This club does not have a set date, so listen to the morning announcements if you are interested in this club.  Mrs. Lori Watson coaches the team. She said, "Sometimes they use real life, sometimes they use makeup cases, but what they do is give us six statements, witness statements, we make a prosecution and a defense from them. So we don't know what the cases or what it's about until October 31st and they put it out and then we have till February to do that put defense and prosecution together and we compete against other schools in the courtroom."
The Science Olympiad is a science-based competition. There are 23 events from biology labs to testing your knowledge of astronomy. There are so many different categories that you can choose from. They meet twice a month on the first week and the last week of the month on Tuesdays in room 250 at lunch. "Science Olympiad is a place where kids can do science for fun. You don't have to be good at science, you just have to like it and have questions about the world. So I always like kids that do things like that for fun," said Ms. Amy Robinette, the sponsor.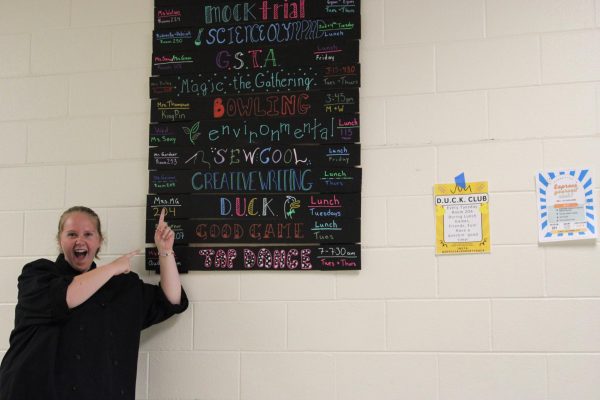 G.S.T.A. (Gay, Straight, Trans Alliance) is a club where you can feel welcomed and supported. In this club that meets on Tuesdays at lunch in room 218B, you'll learn more about the LGBTQIA+ community. This is a safe place for everyone.  "The whole point of GSTA is to be a safe place for everyone and that's why it's the Gay, Straight, Trans, Alliance. Our entire purpose is to make everyone feel welcome, so we value every voice we ask for a lot of input, and the students in the club really run things. So they are great at making sure that everybody is heard," Mrs. Alexa Green said
Magic the Gathering Club is where you can do and learn magic. Learn new card tricks to impress friends and family. In this club, you can be a beginner who's interested in learning magic or an advanced magician. They meet Monday, Tuesday, and Thursday after school from 3:15 – 4:30 p.m. in room 205 with Mrs. Sarah Bailey. 
 If you have a passion for Bowling or want to try it out? Well, they meet every Monday and Wednesday from 4 – 5:30 at King Pin. Their season runs throughout January, and a tournament in February. 
Sew Cool is a club where you can learn new skills like sewing, kitting, and more. You can be brand new to this type of skill or experience. They meet in room 253 during lunch on Friday."To join Sew Cool, you can be somebody who is experienced in sewing or crocheting or whatever. But there are also people that are just interested in starting. So it doesn't necessarily. All different levels, so you can be a beginner, you can be somebody that's a very expert level. All Levels," said Mr.Gardener. 
Creative Writing is where you can express yourself in writing. This is a safe place for all types of writers who do poetry, storytelling, and more! If you enjoy writing, then this is the club for you. They meet at lunch in room 205 on Thursdays. "Structured, Excited, Passionate, Nerdy, and Communal," said Mr. Trenton German when asked to describe the club in five words. 
The Good Game Club is where you can play board games, video games, and other sorts of games. This is the club to have fun. They meet at lunch on Tuesdays in room 207. 
If you are looking for a place to express yourself then the Express Yourself Club is for you! This club is a safe space where you can listen to music, draw and so much more. If you need a breather to take a second and focus on yourself, this is the club for you! This club meets in room 201 from 3:15 – 4:00 p.m.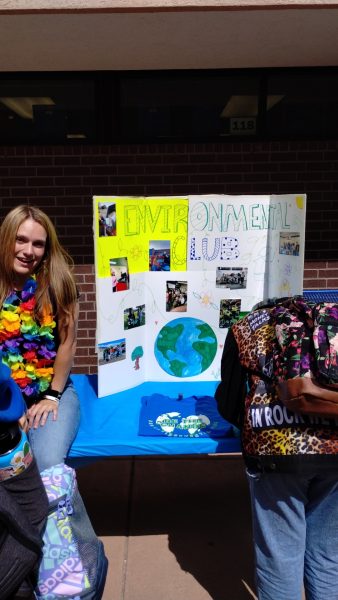 If you care about the environment, this is the club for you. Environmental Club is a recycling program here. They do community service and help out at other schools. If you are interested, they meet every other Wednesday in room 115 during lunch.
Check out the signs by the front entrance for more clubs and activities!