Welcome Class of 2024; We're Here for You
Welcome Class of 2024!
I can only imagine the uncertainty and anxiety you might be feeling starting high school during all of the changes and challenges of COVID-19. And to some degree or another, we're all feeling that stress. I know personally, I'm a little disappointed my junior year isn't going to be like what I imagined. But while things might feel grim, you won't have to face it all alone; you'll have as much support as needed from your Link Crew leaders, teachers, and counselors.
If you're unsure about starting high school in general, Link Crew's got your back. Every freshman was assigned to two Link Leaders, who'll be available whenever you need them to ask questions and help with the transition into high school. Lead by Mrs. Reinmuth, Mrs. Kirkpatrick, Mrs. Turner, Mr. Nelson, Ms. Provenzano, Ms. Thompson, and Mr. Gilbert, the Link Leaders began training this summer to help you adjust as smoothly as possible. Link Crew compiled a list of what all freshmen should know and organized an online Freshman Orientation on Thursday, August 20th. If you missed orientation, I've included a copy of the list below. If you're not sure who your link leader is, you can contact Kristina Reinmuth, who'll be able to redirect you to a link student.
Link Crew's 2020-2021 "What Every Freshman Should Know"
Academics

 

Friends

 

Parents

 

Teachers

 

Try your best  

 

Stay true to yourself

 

Open communication is a necessity 

in order to

 keep a healthy relationship with them throughout your high school career

 

Understand that they are only there to help you succeed

 

 

Ask for help!

 

Honesty is key, and realize that most of the relationships you have in high school will be temporary

 

Respect goes a long way

 

Respect them, and 

don't

 be afraid to ask for help, that is what they are there for

 

 

Work with your counselors 

 

Surround yourself with people that will bring you up/ make you a better person

 

 

Open communication

 

 

 

 

 

Don't

 let your work/grades slide

 

Join clubs and activities to meet new people

 

 

 

Don't

 be afraid to talk to your counselor if an issue is not resolved

 

 

Join clubs to stay motivated

 

 

 

 

Work at study tables/study groups

 

 

 

 
One of the many things I love being a Doherty Spartan are all the events, sports, and activities going on throughout the year. Even though some of those things are going to look different this year, you won't be missing out on everything high school has to offer. CHSAA, the Colorado High School Activities Association, has been working diligently to ensure students can safely return to play sports this year under a modified schedule. Cross Country, Boys Golf, Boys Tennis, and Softball will resume this fall. Wrestling, Basketball, Hockey, and Girls Swim, will begin their seasons this winter. Football, Boys Soccer, and Girls Volleyball will begin next spring. And Baseball, Girls Golf, Girls Soccer, Boys Swim, Girls Tennis, and Boys Volleyball will begin later next spring. And as far as traditions go, Student Council and Link Crew will still be meeting to organize activities for the student body. If you're not sure how to get involved in certain groups, your Link Leaders should be able to find that information for you. And it never hurts to ask around, some teachers may know who the sponsor is for the club you're looking for.
Although your freshman year might not begin exactly as you imagined it, it has equal potential to be an exciting first step in your high school journey. Just as it is under normal circumstances, your experience in high school is what you make of it. Whether you try new things and find what you're passionate about, pass your classes (and maybe enjoy one or two), and meet new friends, all depends on how you put yourself out there. Life is filled with unexpected curveballs and challenges, but Doherty is no stranger to overcoming adversity. Through losing our gym to a water-main break, broken windows because of microburst winds, and everything in-between, Sparta staff and students come together to make the best of a difficult situation. And this year you'll come to do the same. Starting high school online during a pandemic will just be one of many challenges in your life, that'll end up building your resilience. I think I speak for everyone here when I say that we're rooting for you, and we know you can thrive at Doherty.
Wishing you the best of luck this coming school year,
Marynn Krull
About the Contributors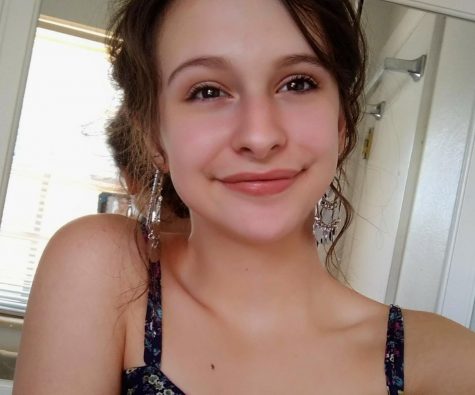 Marynn Krull, Editor-in-Chief
Hey! I'm Marynn Krull, editor-in-chief and writer for The Spartan here at Doherty. I'll be a junior this year. In my free time, I love to hang out with...