Self-Care isn't Self-ish!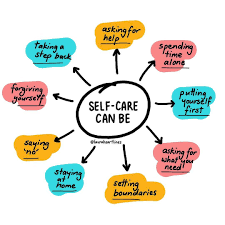 Are you taking care of yourself? If not I'm here to tell you plenty of ways you can! Recently there's been a lot going on in everyone's daily lives; however, that should be even more reason to give yourself extra love and care. There are so many self-care activities that can help you physically, emotionally/mentally, and most can benefit both. 
Personally, I highly suggest making yourself a top priority because if you're not at you're best it will show in a majority of what you're doing throughout your day. I hope that the tips I give you really provide a way for to feel a lot better through the chaotic crazy days. As most teenagers know breaking out is an absolute downer, it happens at the worst times and can take weeks for the pimples and acne to go away. I know that a lot of products are expensive or hard to find but finding out what products work best for your skin is always good! Some suggestions are CeraVe Foaming Facial Cleanser (Normal to Oily Skin) and Cetaphil Gentle Skin Cleanser (Normal to Dry).
Invest in some good facial moisturizer and above all else STAY HYDRATED! Drinking water is extremely important. If you don't like drinking water because "it's just gross" I'd suggest adding lemons, cucumbers, strawberries, blueberries or pineapple. The following fruits add so many benefits and it tastes amazing! Finally, make your general hygiene important. Shower frequently and use your favorite shampoo and conditioner and body-wash.
Look for lotions and perfume(cologne for the guys) although, those aren't necessities, but they can have a major effect on how you feel and depending on whether you're getting ready for the day or for your day to come to an end.
     All in all, create a daily routine for you; aside from skin care doing a workout daily is amazing! Whether you're into sports or you've never been athletic you can do it. It could be 10 pushups and sit-ups a day or whatever you know you're capable of so push yourself.
Exercise can boost confidence and energy help you with a lot. Yoga and meditating are also good for you, anything that benefits you physically has a drastic impact on you mentally. Anything you put your mind to you can do! Staying healthy is a must for everyone and that also involves what you eat and drink daily. Every now and then it's not bad to treat yourself and eat some of your favorite fast foods or snacks. Make sure you do your best to eat the healthiest, you can. 
A very beneficial thing you can do for yourself is sleep from 8-10 hours. When you don't get good sleep, its effects are negative on your body and attitude. If sleeping isn't easy for you try taking some melatonin or drink some tea. Don't forget to be creative in any way you can! Painting, writing, dancing, taking photos or anything that helps you express yourself  
Recently with COVID we all need to be extra safe and careful. From wearing a mask and washing our hands the benefits are so important! Wearing masks prevents you contacting something or passing on something. Did you know in places like Tokyo, Japan its very normal to see people wear mask daily? Even before the pandemic it was/is seen as very respectful because they were preventing their neighbors from getting sick. Looking out for yourself and one's you love. Throughout all the corona chaos you have yourself and you are loved and so amazing. There are so many benefits to self-care and prioritizing your-self so please take the time and realize self-care is NEVER self-ish.