Is Colorado Approaching an "Endemic?" Local Experts Discuss Deescalating COVID-19 Policy
Chief White House Medical Advisor, Anthony Fauci, stresses that its incredibly unlikely humanity will completely eradicate COVID-19, but that increased immunity will transition the world into an endemic response. Nearly two years after widespread COVID-19 shutdowns in the U.S., Colorado may finally move toward deescalating COVID-19 response policy as Omicron cases hit long-term lows.
On February 6, the Omicron variant, whose record-breaking surge overwhelmed hospitals with cases into the new year, dropped completely off the Colorado "Variants of Concern" index. As cases drop significantly around the state, some local experts and politicians discuss the possibility of the COVID-19 pandemic de-escalating to endemic status.
On January 27, the Colorado School of Public Health released a report that suggests the current pandemic phase may end as early as March, negating any new highly-contagious variants. "In nearly every critical measurement, the state is not only at pre-omicron levels but pre-delta levels," the report said.
Earlier that week, Governor Jared Polis was invited to testify before a Congressional subcommittee on the status and handling of COVID-19 in Colorado. "Over the last two years, we have relied on the latest data and science to help guide our response to the virus," Polis said, "This has led Colorado to one of the shortest shutdowns, and one of the lowest death rates in the country."
As of February 13, according to the Colorado Department of Health and Environment, models estimate that 1 in 60 Coloradans were infectious with COVID-19. However, the models also approximate that 90% of people are immune to the Omicron variant, which may have contributed to the end of the Omicron surge. Though, state epidemiologist Dr. Rachel Herlihy noted that communities may vary in exposure and immunity.
Talia Quandelacy, assistant professor of epidemiology at the Colorado School of Public Health, said that the BA.2 subvariant "isn't taking off in Colorado, and it appears unlikely to trigger another surge." But, she noted, because transmission is still high, "it's still a good idea" to wear a mask indoors and get a booster shot.
Dr. Lisa Miller, professor of Epidemiology at the Colorado School of Public Health, says Colorado is nowhere near an endemic state: "We're still seeing huge spikes around the world and our state is a good example of that."
"COVID-19 will be with us for years to come, and while early data may indicate that we are entering the endemic stages of this virus, we must be prepared for the inevitable lulls and waves that will continue impacting our hospitals, as well as any future events like COVID-19," explained Polis.
"You may think that two years is a long time, but in the lifetime of a virus, it's not a long time," Miller said, "It's early. And there's still a lot that we don't understand. There's still a lot of unpredictability about this virus."
78% of eligible adults in Colorado have recieved two doses of the COVID-19 vaccine and 53% have received a booster shot. Polis attributes COVID-19 vaccine distribution to Colorado's success in navigating the pandemic: "I'm proud of the ways Coloradans have stepped up to get the doctor-approved vaccine to help stop the spread of the virus, and I was honored to share our perspective with members of Congress today to help spur nationwide action to help our country move forward."
Leave a Comment
About the Contributor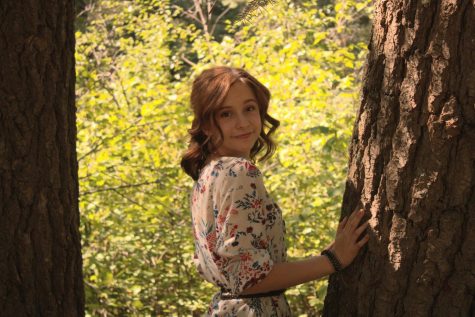 Marynn Krull, Editor-in-Chief
Hey! I'm Marynn Krull, editor-in-chief and writer for The Spartan here at Doherty. I'm a senior this year. I love to hang out with friends and binge...