Doherty High School Boasts Two Full-Ride Daniel's Scholarship Winners: Congratulations Will Pado and Tylor Huff!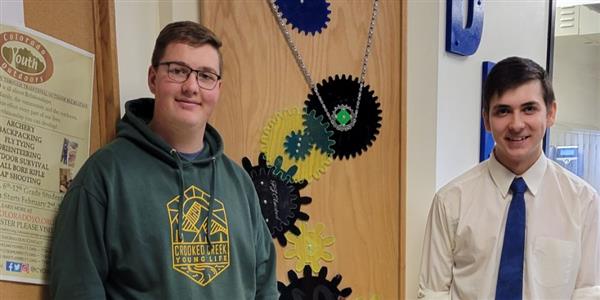 The Daniels Fund, a highly-competitive 100,000-dollar scholarship for students in Colorado, Wyoming, New Mexico, and Utah, selected two Doherty High School students for the class of 2022. Seniors Will Pado and Tylor Huff will receive a full-ride scholarship to any accredited college in the United States. 
The scholarship is need-based but has rigorous eligibility and judging criteria. Daniel's Scholars embody "strength of character, leadership potential, commitment to serving their communities, academic performance or promise, well-rounded personality, emotional maturity, and stability." 
Bill Daniels, whom the scholarship was named after, grew up in poverty, served in two wars, and acted as a "pioneer in cable television." Daniels was a philanthropist who raised $300,000 dollars for education, founded Young American's Bank, and donated frequently to the University of Denver. 
Will Pado's Story
"I was at the Black Canyon with [friends] driving when my friend Josh gets a text from Tylor," Will explained, "[Tylor] was like 'I got the scholarship' and I was anxious the whole ride home,' Will Pado explained. Pado was nervous as he tried to pull up the results, noting that he didn't have service for most of the ride home. "When I found out, I was jumping around saying 'I got it! I got it!' And I called my dad," Pado said.
Pado said he didn't think he would win it, but applied because his dad encouraged him to. "I had to get a suit," Pado explained, "I didn't have a good suit before the interview."
Pado applied to smaller scholarships at Colorado State University and CU Boulder, but this was the first big scholarship he won. At CSU Fort Collins, he plans to study mechanical engineering with an aerospace concentration. 
After college, Pado hopes to be an entrepreneur. The dream is "making a product, patching it, selling it, and making money," Will said.