Mr. and Ms. Doherty Crowned
Sixteen Seniors. One stage. Ten judges ready to be dazzled with talents and dances. Ready to continue the tradition of crowning the next Mr. and Ms. Doherty.
As the tradition started in 1995, but it started as only Mr. D, the same concept but without any girls. But as the years went on, they got in trouble for only including guys, so it got taken away, but then came back as Mr. D and Ms. D the next year.
As the Doherty community spotlights our sixteen senior candidates that represent our school, we want to share their talents and ask them questions to test their intelligence to pick out a pair of seniors be our new Mr. and Ms. Doherty. As we interviewed some of the candidates, it was an eye opener seeing how the nominees thought they were a rightful fit for the title.
Some candidates explained why they think that they are a good representative. Kamee Hart has a sweet soul, is involved in many activities, and played on girls' varsity basketball this year and made it to the state quarterfinals. She explained, "I'm very social and involved with the school."
Walat Gozeh, a friendly individual who is the editor of the school newspaper and takes on Link Crew and Environmental Club said, "I believe I have good communication skills with people." Walat performed a solo to the song "22" by Taylor Swift, giving the judges a thrill as his routine was well polished. He also surprised everyone with black and pink in his suit, showing off to the audience and the judges. Walat showed incredible poise as he was confident throughout the interview section.
Kyle Hayden, who is on the varsity basketball team and is also very athletic, said, "I'm nice to everybody." Each competitor responded to each question remarkably and showed off their unique dance skills at Doherty. Kyle also performed "Baby" by Justin Bieber with Pyper Aldrich and stunned the audience and the judges. Kyle wore a tux in black and red while shocking everyone during the interview section.
Sanaa Jones, who can brighten a room with her smile and is involved with Link Crew and Doherty's Black Student Union, said, "I'm sweet and talk to everyone and am a very positive person." Sanaa proves she can sing as she stuns the audience with her voice singing "Collide" by Earthgang. She also performs a duet with Mahki to the song "Thrift Shop" by Macklemore and gives the theater a good laugh.
Pyper Aldrich, who is very intelligent and is involved in Doherty Robotics and also being elected the student body president, explained, "I'm in a lot of clubs that vary from sports and academics." Pyper stuns the judges with her nunchucks and sword performance. Her dance with Kyle was a huge success as they danced to the song "Baby" by Justin Bieber. Pyper showed out during the dress-up of the event as she wore a long lilac dress to surprise the judges.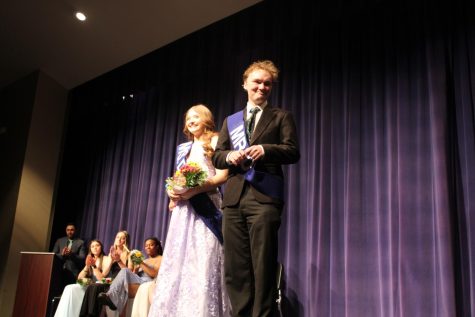 From their creative dances to showing off their amazing talents, the judges finished up voting for the winners. As the night came to an end, the moment everyone had been waiting for came, and they announced the winners.
Matt Lynn and Pyper Aldrich are the lucky winners. We asked them what they thought about winning, and Matt said, "It was a really cool moment. An awesome full circle moment, realizing that I really did everything at Doherty that I could. I'm very satisfied with how I spent my highschool years, being able to reflect my time at Doherty."
Pyper said, "It's crazy to me honestly. It's not something I normally would do and I did not expect to win, but I'm glad I did." The auditorium was filled with cheers for the winners, and the night came to an end. Congratulations to all the candidates for getting this far. Until next year Mr and Mrs D.
Leave a Comment